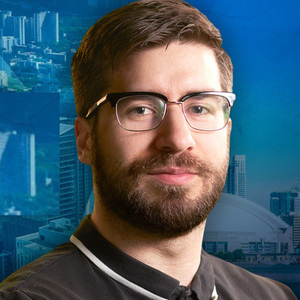 Andrew Says is a popular YouTuber and commentator for Rebel News, and frequent man-on-the-street interviewer. With a background in broadcasting and public relations, Andrew has been a professional writer for nearly a decade.
Andrew Chapados's Hosted Episodes
Andrew Chapados has hosted 30 Episodes.
July 29th, 2021

Tarl Warwick is a popular YouTuber and author who has amassed half a million subscribers for his honest and analytical take on politics, culture and religion. Warwick, a.k.a. 'StyxHexenHammer666,' is no stranger to debate, and joins Andrew Chapados on Andrew Says to talk about critical race theory and more.
This episode is sponsored by Elevate Farms.
Elevate Farms is a technology & IP-based indoor farm that produces traditional, farm-grown equivalent products at wholesale market price with a global footprint. Go to Elevate.Farm for more information.

July 24th, 2021

July 23, 2021: David Menzies and Andrew Chapados discuss the Cleveland Indians changing their team name, Hasbro's training pitch for fixing racist babies and Viva Frei running for the PPC in Montreal.

July 22nd, 2021

James Klüg is a political commentator, journalist, and contributor for Newsmax, who has been labelled as a "pipeline to conservative news" for his on-the-ground coverage of Black Lives Matter and Antifa riots that are often featured on large news networks.

July 15th, 2021

Listen to audio-only versions of RebelNews+ exclusive shows like the daily Ezra Levant Show, and weekly shows by Sheila Gunn Reid, David Menzies, and Andrew Chapados. And listen to the audio version of our DAILY livestreams.

July 8th, 2021

Sponsored by Elevate.Farm
Patriot J is a hip-hop artist who has come out against traditional political narratives in Californian politics, challenging Democratic norms on race issues. He's had top 10 songs in the country, without mainstream airplay.

July 1st, 2021

Brought to you by Elevate Vertical Farm. Visit https://elevate.farm/.
Adam Skelly is an entrepreneur and restaurant owner who launched into fame after he refused to close his Toronto restaurant in the face of lockdown restrictions put in place by the government. Skelly was then arrested on a now-infamous day that saw several dozen police, including some on horseback, raid his restaurant and arrest him in front of a large crowd of protesters.

June 24th, 2021

Samaire Armstrong is an actress (The O.C., Entourage, Resurrection) and political activist.

June 17th, 2021

From teenage celebrity status in Turkey to Rebel News' producer and videographer extraordinaire in Canada, Abdusselam a.k.a. 'Mocha' Bezirgan has accomplished so much at such a young age.

June 10th, 2021

Zuby is an independent rapper, author, life and fitness coach, public speaker, and host of the Real Talk with Zuby podcast. He is also the holder of the British women's deadlifting record.

June 3rd, 2021

Eric Butler is an independent reporter who covers the urban decay of some of America's biggest cities, including New York City and San Francisco, where he's lived.

May 27th, 2021

Matt Brevner has a history unlike any other Rebel News personality — he is a Juno Award and Much Music Video Award Nominee for his work as a producer and hip-hop artist.

May 20th, 2021

The man, the myth, the legend Alex Jones joins Andrew Says for an exclusive talk about the Joe Rogan/Spotify fiasco, his history with secret societies, Biden's first few months as President and in-depth discussion about de-platforming.

May 13th, 2021

Cody Matechuk is a three-time Winter X Games gold medallist who specializes in snowbiking and base jumping, performing all over the world at sponsored events and on his new YouTube channel Cody Matechuk, where he's catalogued a litany of insane tricks and stunts.

May 6th, 2021

John Doyle is a YouTuber and political commentator who hosts "HeckOffCommie" and runs the website of the same name. John also frequently appears as a guest commentator on the channel Slightly Offensive with Elijah Schaffer.

April 29th, 2021

Bryson Gray is a rapper and political commentator known for his outspokenness about Black Lives Matter, Christianity and Republican issues.

April 22nd, 2021

Spencer Fernando is a writer and Campaign Fellow with the National Citizens Coalition, who operates his own independent news site SpencerFernando.com.