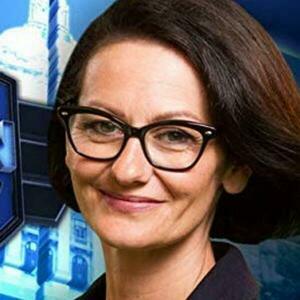 Sheila Gunn Reid is the Alberta Bureau Chief for Rebel News and host of the weekly The Gunn Show with Sheila Gunn Reid. She's a mother of three, conservative activist, and the author of best-selling books including Stop Notley.
Sheila Gunn Reid's Hosted Episodes
Sheila Gunn Reid has hosted 469 Episodes.
December 1st, 2023

Today, we're looking at an Alberta NDP sex scandal uncovered by Rebel News, which saw an NDP staffer receive a charge from police and then a promotion from the party afterwards.

Plus, anti-Israel protesters in Saskatchewan and Quebec have been blocking trains in an attempt to disrupt the economy, yet the government remains quiet about taking action against the demonstrations.

And finally, the public-led National Citizens' Inquiry into Canada's COVID-19 response released its final report.

November 29th, 2023

The United Nations global warming summit is scheduled to begin this week in the United Arab Emirates, one of the planet's most energy-intensive, opulent places.

November 28th, 2023

Tonight, guest host Sheila Gunn Reid discusses Premier Danielle Smith's mission to assert Alberta's rights within Canada. Smith's bold move, invoking the Sovereignty Act, challenges the federal government and strikes fear into the heart of Justin Trudeau.

November 22nd, 2023

Steven Guilbeault has lost three high-profile recent court battles but refuses to come to his senses, even when a judge smacks him down.

November 22nd, 2023

Today, we're looking at anti-Israel protesters crashing a Liberal Party of Canada fundraising event attended by Prime Minister Justin Trudeau.

Plus, Deputy PM and Finance Minister Chrystia Freeland announced the feds would be dishing out more bailout money to failing legacy media outlets.

And finally, a group of farmers travelled to Ottawa to protest the federal government's carbon tax on farming emissions, something that set off a Liberal MP in the House of Commons.

November 21st, 2023

Today, we're looking at Justin Trudeau's comments about protests for and against Israel, with the PM saying he supports the right to peaceful demonstration even for those he disagrees with. How'd that work out for the Freedom Convoy?

Plus, a Canadian Human Rights commission is calling Christmas a colonial tradition.

And finally, Environment Minster Steven Guilbeault says the federal government will appeal a Federal Court decision that reversed the Liberals' single-use plastics ban.

November 15th, 2023

Tonight, Sheila Gunn Reid speaks to a rather a cheeky campaign by the Canadian Taxpayers Federation (CTF), in a bid to name and shame the vast majority of Liberal MPs who voted against carbon tax reprieve for all home heating.

November 13th, 2023

Today, we'll be recapping the shocking statements from anti-Israel rallies both here in Canada and abroad, particularly in London, England, where Rebel reporter Alexa Lavoie covered two controversial Remembrance Day protests.

Plus, a Montreal-area Jewish school that was previously shot at last week was struck by gunfire again over the weekend.

And finally, climate activist Greta Thunberg had a speech interrupted by a disenfranchised environmental protester who was tired of her political messaging.

November 9th, 2023

Today, we're looking at Prime Minister Justin Trudeau getting his latest COVID-19 booster shot along with a flu vaccine.

Plus, the fight over Canada's carbon tax is heating up as the weather cools across the country.

And finally, protests in support of Palestine and Hamas have been growing in aggression in recent days, including a pair of incidents in Quebec as well as a protest that blocked MPs cars in Ottawa.

November 8th, 2023

Federal estimates now peg the firearms confiscation compensation program at nearly $2 billion after an initial 2020 estimate of $225 million. The real figure is likely much higher.

November 7th, 2023

Today, we're looking at a reported firebombing of a synagogue in the Montreal-area.

Plus, police are conducting a homicide investigation after an older Jewish man was killed following a confrontation at a pro-Palestine rally in Los Angeles, California.

And finally, Canadian female powerlifter April Hutchison is facing a two year suspension after she spoke publicly about the sport's decision to allow biological males to compete in the women's division.

November 3rd, 2023

Today, we're looking at Alberta Premier Danielle Smith leading the charge in the growing fight against Ottawa's carbon tax.

Plus, Prime Minister Justin Trudeau got in touch with his drama teacher roots, assigning Canadians a piece of "homework" yesterday.

And finally, we'll look at more details from the ArriveCAN hearings, where the scam pulled on taxpayers is continuing to unravel.

November 2nd, 2023

Today, we're looking at a venue cancelling Avi Yemini's book launch after caving into threats from Antifa agitators in the United Kingdom.

Plus, Prime Minister Justin Trudeau declared his support for peaceful protests after Palestinian supporters have been holding regular rallies calling for the destruction of Israel.

And finally, in light of pro-Palestinian protests, Vice President Kamala Harris announced the US would be releasing a strategy to target Islamophobia.

November 1st, 2023

Monday, the Alberta legislature returned for the fall sitting and Premier Danielle Smith used her Throne speech to lay out her agenda.

October 30th, 2023

Listen to audio-only versions of RebelNews+ exclusive shows like the daily Ezra Levant Show, the Gunn Show, and audio versions of our DAILY livestreams along with other Rebel News long-form videos and interviews.

October 25th, 2023

The so-called "buy-back" scheme for gun owners hit with the Feds' arbitrary banning of over 1500 models of shotguns and rifles in May 2020 was delayed two more years, to October 2025.